Kardinal Stick KURVE vs. UWELL Caliburn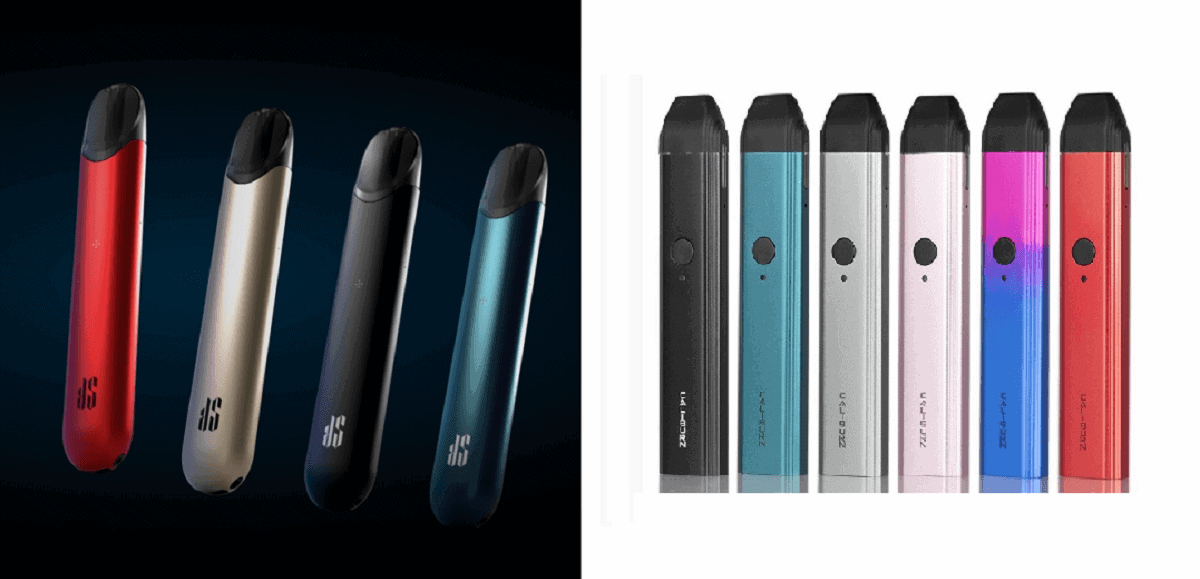 Is Kardinal Stick KURVE the real deal than UWELL Caliburn? Check out this whole article to know if KS KURVE really has what it says that's it the best vape pod in the metro
We'll compare KS Kurve and UWELL Caliburn in different and other particular aspects that they each have. From design, capability, and capacity, battery life, flavor pods, weight, and the experience of other consumers.
Kardinal Stick KURVE and UWELL Caliburn are both available in the market of the Philippines, though UWELL Caliburn has been banned from other countries because FDA's demand that UWELL violated rules, 2009 Tobacco Control Act and the 2016 Deeming Rule (source: vaping360.com) But UWELL Caliburn is still available to the Philippine vaping market and community.
As we all know that KS Kurve is only new to the Philippines and every day it has been the talk of the town of vape consumers, influencers, and other artists. The growing community of KS Kurve is still rising because of its advocacy of exchanging vape pods rather than using cigarettes or tobaccos that have a high dosage of nicotine and other health concerns.
Just a quick trivia that UWELL Caliburn is a pocket-sized pod just like any other pod with a refillable pod device that's made for nic salt vaping, but it can also be used with nicotine or no nicotine at all.
Now, let's compare KS KURVE and UWELL Caliburn from their different features.
✨ PRICE
KS KURVE: PHP 1,300
UWELL Caliburn: PHP 1, 200
KS KURVE is only a hundred pesos expensive than UWELL Caliburn but you'll understand it as we unravel more details about it. UWELL Caliburn's prices might vary because some retailers have been selling the pod for only PHP 750 – PHP 990.
✨ DESIGN/LOOK
KS KURVE: 4 COLORS in Red, Black, Pacific Blue, and Champagne Gold
UWELL Caliburn: 6 COLORS in Red, Blue, Gray, Black, Pink, and Iris Purple
KS Kurve only has 4 colors, while UWELL Caliburn has 6 COLORS. Both pod systems have the same classic colors but what's unique about KS Kurve's look it looks like plastic but KS Kurve has an advanced material aviation aluminum body, and it's scratched proof which is very useful, unlike other pods it has a fragile body that when you just put it down and slides down a bit, it will have scratches already.
As for the design many consumers of UWELL Caliburn who bought KS Kurve preferred KS Kurve with its looks and design because of how elegant it looks, it may look simple but the attraction is that the KS Kurve gets really catches people's eyes and attention.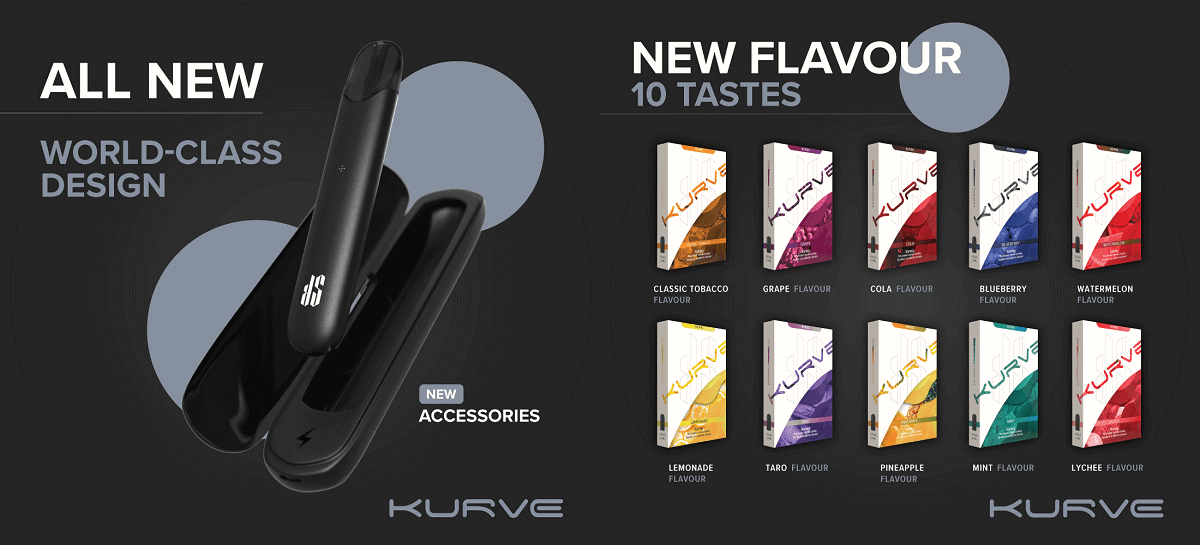 ✨FLAVORS PODS and PODS
KS KURVE: 11 Flavors pods (costs PHP 750, 3 pods each box) each pods has 2.1 mL/pod, 5%/3% nicotine
UWELL Caliburn: They actually have refillable pods so any juice can be used with their pods, so they don't really sell for UWELL Caliburn, and so on. The pods that they sell are for their Uwell Koko version, but that's another product of theirs that we must search into in the future to compare it also with KS Kurve.
The capacity of UWELL Caliburn of their pod system is 2ml/pod with either 1.2 ohm or 1.4 ohm coil. Any e-liquid can be used with UWELL Caliburn. So in conclusion, they don't. Uwell's Caliburn doesn't have its own flavor pod.
✨ KS KURVE and UWELL Caliburn have the same charging port which is TYPE-C FAST CHARGING.
Charging time
KS Kurve: 18 to 20 minutes
UWELL Caliburn: 35 to 40 minutes
Battery Capacity
KS Kurve: 450 mAh
UWELL Caliburn: 520 mAh
UWELL Caliburn's charging time takes longer because the capacity of its battery is much higher, while KS Kurve only takes 18 minutes to have an exclusive experience and it could last 1 to 2 days depending on your usage. You may use the UWELL Caliburn while it's charging but the downside of it, it may take longer to charge and you can charge it as long as the battery is not depleted. KS Kurve can also be used while it's charging but we suggest being patient when charging it so you can have the best experience while using it when it's done charging.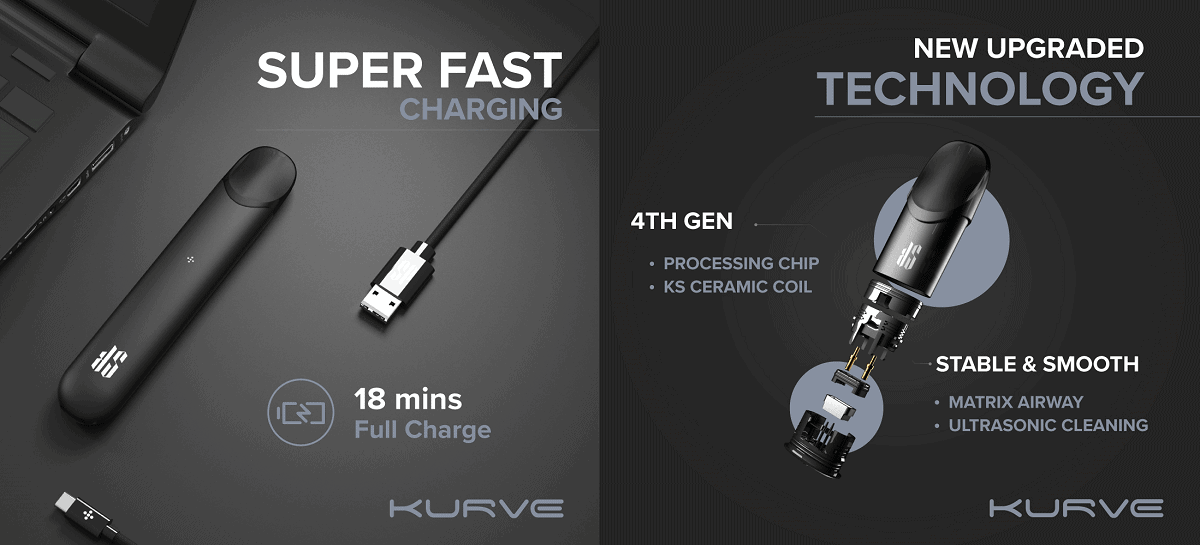 ✨ PRODUCT QUALITY
As for consumers of UWELL Caliburn, they said that they had some serious leakage issues with the pods and even if you can use it as MTL the pod can be easily loose.
KS Kurve
So far the first 100 consumers who bought and have already used KS Kurve for how many months here in the Philippines never had any hindrances with the pod. But since it's still a new device it can also have factory defects like any other brand, which is very understandable and everything has room for improvements.
✨ FEATURES
KS KURVE
KARDINAL 4 CHIPSET, 40% faster response
12-LAYER MATRIX AIRWAY, leak-proof structure
The First Innovative 4-LAYER PLF CERAMIC, higher thermal efficiency, Puff up 15%
DOUBLE AIR INLET, smooth and stable airflow
PCTG FOOD GRADE MATERIAL CARTRIDGE, safer and healthier
DUST-FREE IMPURITY-FREE, auto clean by ultrasonic technology
UWELL Caliburn
Battery Capacity: 520 mAh
Size: 110mm x 21.2 mm x 11.6 mm
Maximum wattage: 11 watts
Click 5 times for child lock
Draw activated mechanism fault diagnosis function
✨ Testimonials from users of both KS KURVE and UWELL Caliburn
"I have been using UWELL Caliburn for a year and there are times that I have been having a hard time because of the charging time it's too long, and as the time goes by it takes longer to charge it's like the battery has weakened already, KS Kurve was introduced by a fellow user of UWELL Caliburn. So I gave it a try and my first puff was that the draw is smooth and when it comes to looks it is classy, so I gave it a try and wow I was astonished by my experience with KS Kurve. So far, I never had issues with the pod. Honestly, I bought 2 just in case I left the other one at home. Also, the charging time is really fast and it can last up to 1-3 days depending on my usage!"  – from Jairrah Delos Santos

"I had a bad habit of smoking cigarettes, I was a chain smoker until I used a different kind of pods, then I settled for UWELL Caliburn although it's refillable pod system I think there's still something lacking about the product that still keeps me from smoking cigarettes even if I have the UWELL with me. My eye caught on an ad which is KS Kurve, and I got interested in it, though I was a little too skeptical because I might get dissatisfied again with the goal of quitting smoking. So I searched about KS Kurve and to my surprise I found myself buying it in the color of Champagne Gold. All I can say is that I didn't regret the decision of buying the product, it has surpassed my expectations and every day I use it plus I don't smoke cigarettes that often anymore just 1 cigarette a week because I'm learning to overcome this old habit of mine with KS KURVE. I rate it as 10/10!" – from Clyde G. Hizon

"Just want to say omg best buy ever!!! Loved all the colors I might collect. I love all the flavors!! When I bought KS KURVE I bought all the flavors because I was so curious about it because my cousin kept on bragging about how the flavor of the Kardinal Stick pods is really tasteful and not a waste of money. I was actually a UWELL user, more specifically their successor which is Caliburn. As an impatient human being it really takes time to charge but with KURVE it's fast and Kardinal Stick products are really something for me, it's very elegant and has well-upgraded features and technology. I use it every day and it's not addictive, don't worry. By the way, my issue on UWELL Caliburn was massive leakage which is such a waste especially when I put it in my pouch or bag it messed my things up unlike KS Kurve never had an issue at all! Hope you guys will have more products and designs in the near future! thanks :)" – from Yana Geronimo

This is written with a thorough research for both products so that we can elaborate it more. I hope that this is a good read and would help you decide to pick your pod, so you won't have a difficult time choosing. The testimonials are also from real customers and consumers that have experienced both UWELL Caliburn and KS Kurve.
Stay tuned for more comparisons and reviews. KS KURVE has always something to offer, Kardinal Stick products are available here. Kardinal Stick is also available in Lazada and Shopee. Don't hesitate to message us because we are always willing to help you with your inquiries.

📋 Read more articles: